Mobile App updated: layouts and custom keyboard
March 14, 2022, 5:18 p.m. - posted by Wojtek
We recently updated CT Grid with custom layouts functionality. The new version of our mobile app was released to accompany it, but we also included some tweaks and improvements to make your life easier.
We have added a brand new numeric keyboard with direct keys to increase/decrease prices.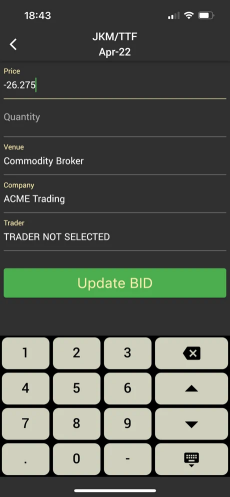 We expect the change to be especially welcomed by our iPhone users, where we had to use the full system keyboard before, with much smaller digit keys.
Some desks requested the their mobile app to be read-only, such permissioning is now fully implemented and the new app version supports read-only mode. This is managed by your administrator.
The new release also addresses a long standing dependency on the desktop app for rolling on mobile. In previous versions the periods in the layout rolled only if CT Grid was opened on a computer. Now this is no longer required and when a product expires the periods will roll automatically in the mobile app too. Some other minor bug fixes are part of the release as well.
CT Grid mobile app available now at Apple App Store and Google Play Store.